DO YOU TRAVEL FOR WORK AND ARE YOU OFTEN ON THE GO?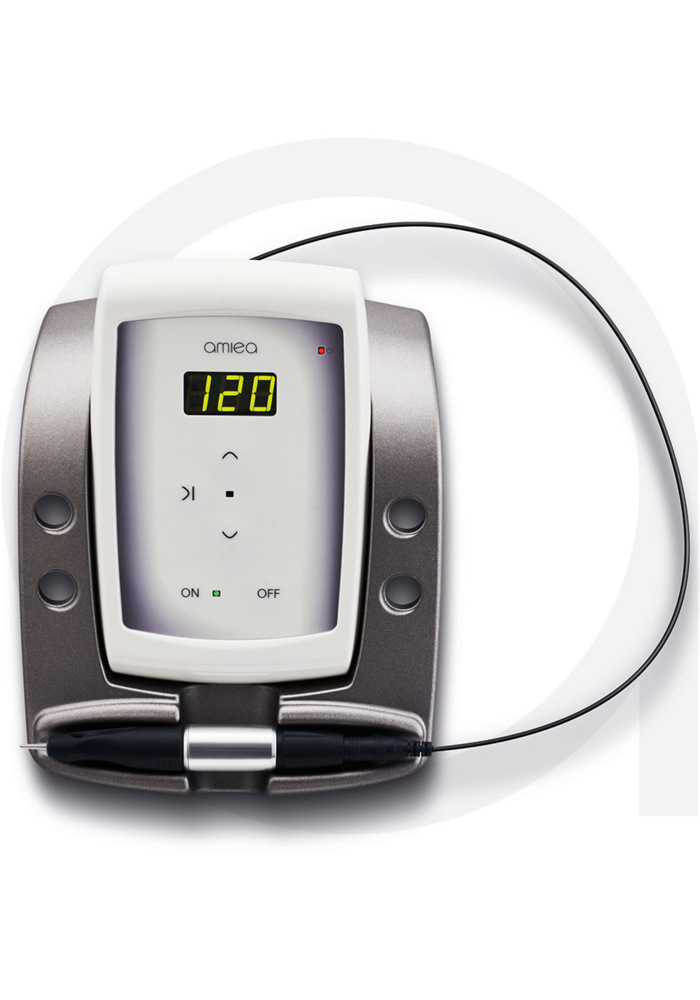 Then the amiea Linelle II is the ideal device for you – it is as light as a feather and is really powerful to boot. You control the frequency and insertion depths directly using the arrow buttons. As such, you can enjoy full control. The handpiece is comfortable to use thanks to its ergonomic design. Your hand won't tire quickly, even during longer treatments. As with our other devices, it is quiet and low vibration. As such, it adds to the pleasant ambiance in the treatment room.
HIGHLIGHTS & BASIC INFORMATION
Lightweight device
Ideal for mobile services
Adjustable insertion depth, adjustable frequency
High precision
Highest force and needle speed
Low noise and low vibration
lThe lightest and smallest amiea handpiece, ergonomic grip
Datasheet
TECHNICAL DETAILS FOR AMIEA LINELLE II CONTROL UNIT
Nominal voltage 100 - 240 V AC / 15 V DC
Power input 8 VA
Width x height x depthe 100 x 45 x 140 mm
Weight 400g
TECHNICAL DATA AMIEA SYMPHONY HANDPIECE
Capacity 1,1 W
Frequency 50-140 hits / second
Weight 50 g
Diameter 20.5 mm
Pen length with cartridge 165 mm
Pen length without cartridge 127 mm
KCable length 2 m
Material aluminum/plastic
PERMANENT INTERNATIONAL SUMMIT
20 - 21 October 2019 in Berlin, Germany

Sign up today for the PERMANENT INTERNATIONAL SUMMIT from 20-21 October 2019 at the Ritz-Carlton Berlin. Join us. Let yourself be inspired. Discover "pioneering innovations".