ENGINEERING PROWESS MEETS GREAT DESIGN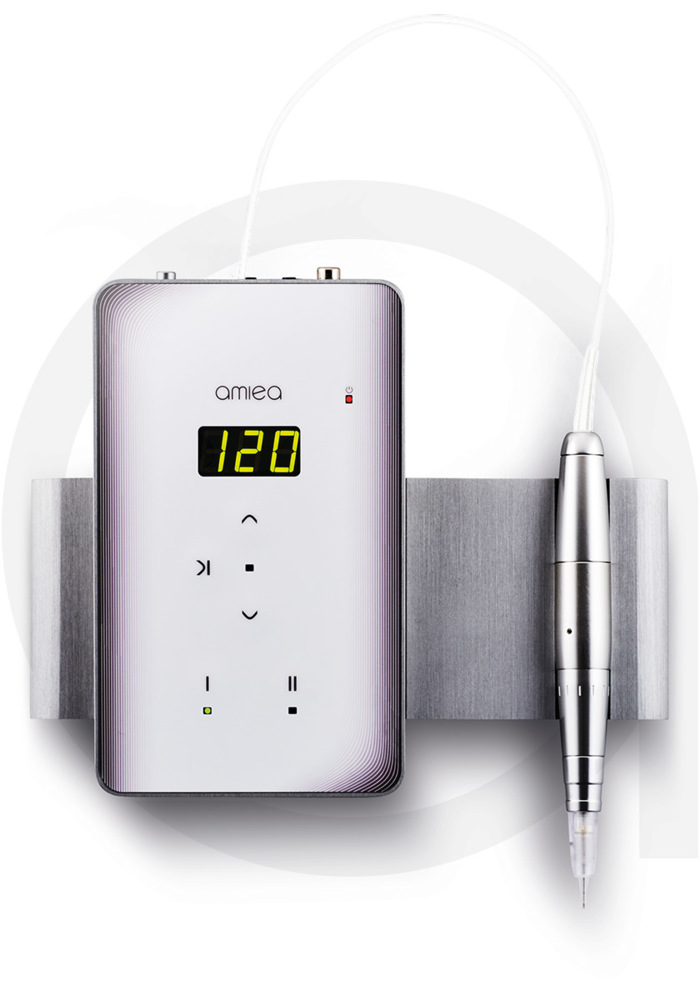 We have once again combined German engineering with special design for the amiea Facile. The result is a device that will be a real eye-catcher in your studio. It immediately catches the eye thanks to its elegant appearance – the slim housing is made of brushed aluminum. If you travel for your work, you are certain to enjoy the benefits of this device's small, compact design. Facile offers a needle speed of up to 150 hits per second, and you can control how deep the needles penetrate. The low vibration and low noise will ensure that your customers enjoy their treatments with this device.
HIGHLIGHTS & BASIC INFORMATION
Housing made of brushed aluminum
One of our bestsellers
Adjustable insertion depth, adjustable frequency
Extremely quiet and low-vibration
Extremely quiet and low-vibration
High precision, strength and needle speed
Carefully balanced handpiece, excellent grip and ergonomic design
Two-year guarantee for the handpiece
Datasheet
TECHNICAL DATA AMIEA FACILE CONTROL UNIT
Nominal voltage 100 - 240 V AC / 15 V DC
Power input 5,7 VA max
Width x height x depth 230 x 45 x 185 mm
Weight 1.100 g
TECHNICAL DATA
AMIEA SUPREME HANDPIECE
Capacity 1,1 W
Frequency  50-150 hits / second
Weight 80 g
Diameter 22 mm
Pen length with cartridge 197 mm
Pen length without cartridge 163 mm
Cable length 2 m
Material aluminium
PERMANENT INTERNATIONAL SUMMIT
20 - 21 October 2019 in Berlin, Germany

Sign up today for the PERMANENT INTERNATIONAL SUMMIT from 20-21 October 2019 at the Ritz-Carlton Berlin. Join us. Let yourself be inspired. Discover "pioneering innovations".