HIGH-END CARTRIDGES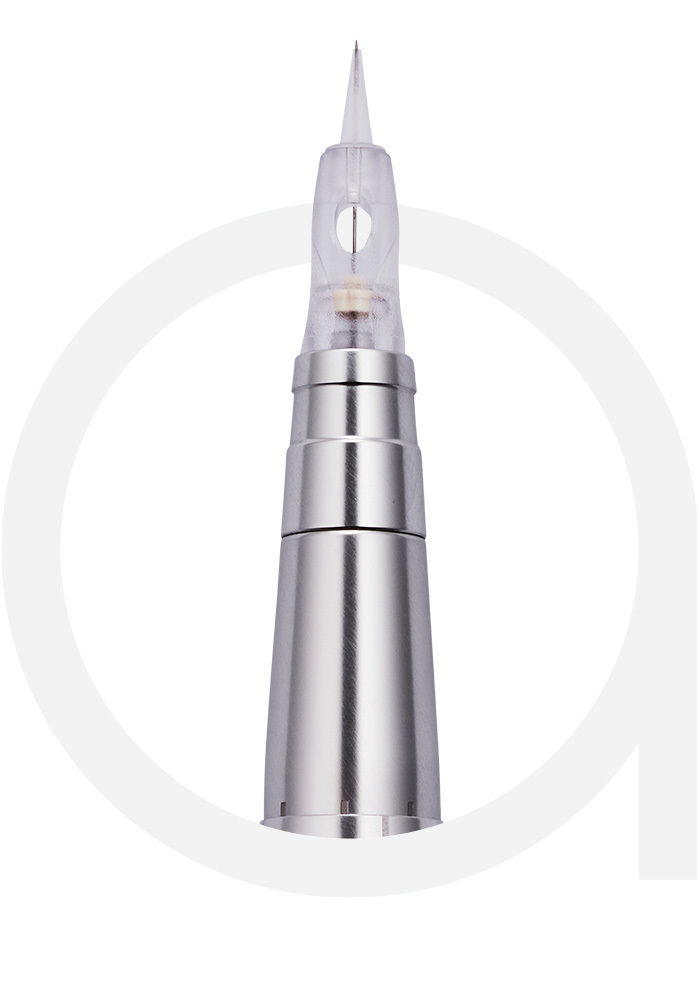 amiea offers a wide range of different needle configurations so that you can find the perfect cartridge for all types of treatment. Thanks to the high quality standard, trauma to the skin is kept to a minimum. Less injury, better color insertion and optimum outcomes. And your clients will love your work even more as a result.
TOP PERFORMANCE FOR YOU AND YOUR CLIENTS
Our aim was to develop the best and safest needle module for permanent makeup as a single-use cartridge system. And we have succeeded: a special tension-spring membrane seals the backflow of any fluids. This patented seal prevents contamination and provides you with the reassurance of total safety.
SIMPLY THE BEST CARTRIDGES FOR PERMANENT MAKEUP
Only the very best products leave our factories. We have implemented strict quality control processes and inspect each and every cartridge to make sure it meets our high demands. They have been designed for single use, so that you always know that they are sterile. They are also state-of-the-art in terms of handling: they can be quickly and easily affixed to the handpiece. And they help prevent injuries, as the needles retract when it is not in use.
MADE OUT OF THE FINEST STEEL
The finest surgical steel helps you to keep trauma to a minimum. The less injury you cause to the skin of the client, the less blood leaches out into the color. The results are rich, long-lasting colors and satisfied clients.
HIGHLIGHTS
The finest quality, made in Germany


Strict production controls


Guaranteed batch tracking


The strictest quality control processes


Fast replacement of colors and needle cartridges


Validated sterilization procedure


Single-use cartridges


Stable, precise needle guidance


The highest safety and hygiene levels thanks to the patented safety membrane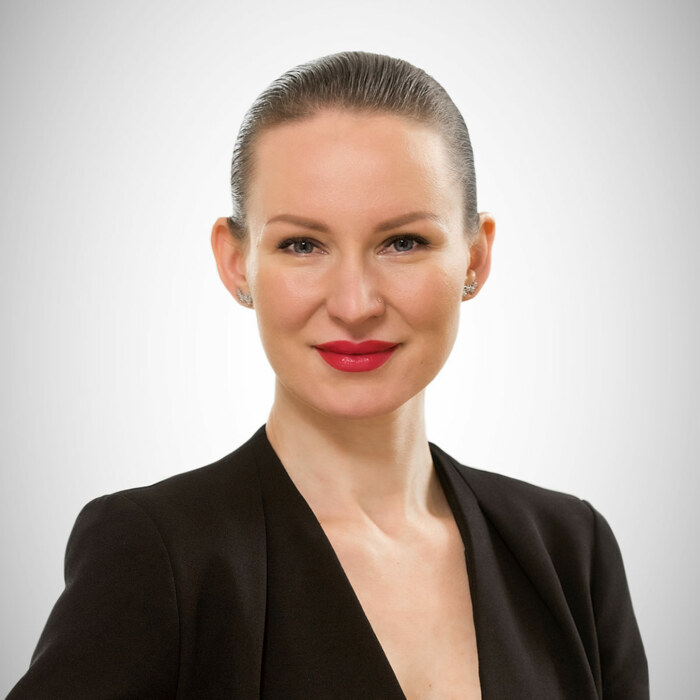 » My favorite configurations for eyebrows are Nano Nᵀ and Nano N² – depending on the client's skin thickness – and 1-Liner for shading.

To improve the eyeliner and eyelashes, I like to use 3-Micro for fast and thick pigment application. Eyes can swell up quickly, so this needle is ideal.

For lip contours, I use 1-Liner: generally for all lips but especially for small lips and in the case of wrinkled skin and reworking. I use 3-Outline for normal-sized lips without wrinkles.

And, when I am shading, I use the 3-Nano Slope. It causes less swelling and saves time. « Elena Nikora, amiea International Master Trainer
Digital blading and powerful shading with our new Nano Slope needles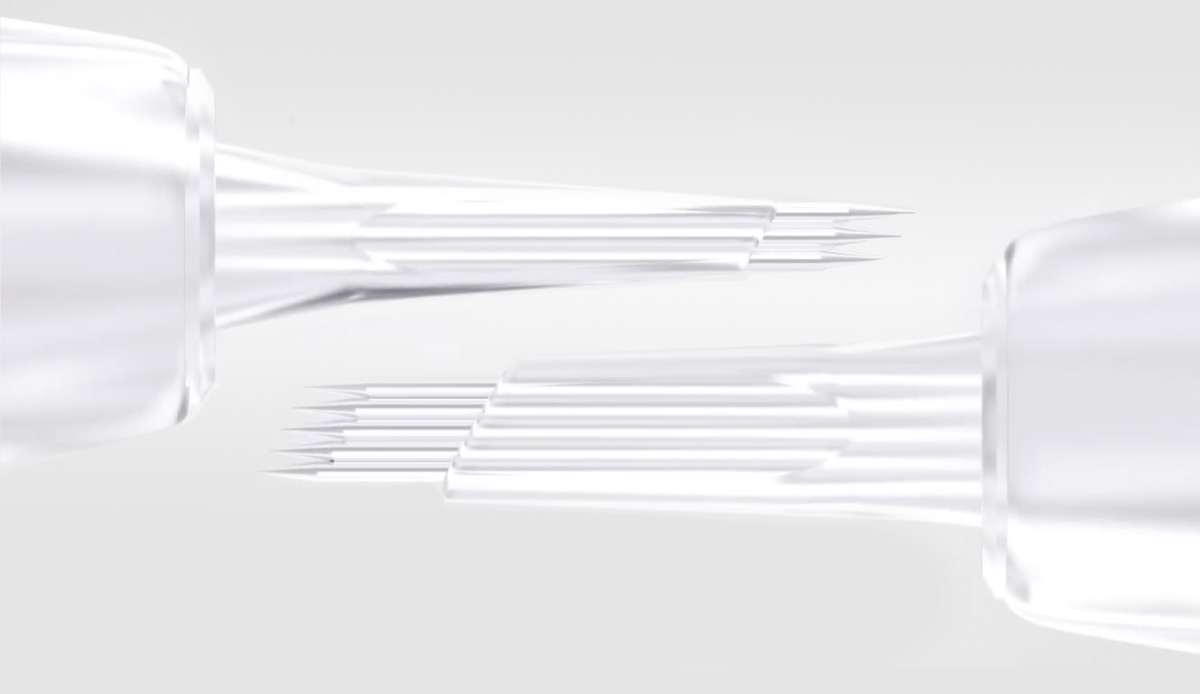 3-Nano and 5-Nano Slope are our new universal all-rounder needle for all, really all! kind of techniques.
Advantages:
Less vibration
Microblading-like hair strokes with long-lasting and proven better results on all kind of skin types
6 different working techniques for creating different PMU effects just with 1 cartridge
Crisp hairstrokes
Powerful shading: more color implantation with less passes and less hand pressure
Nano needles diameter 0,25 mm vs 0,4 mm in the regular Slope cartridge
Optimized pigment flow through needle tip. Make lines more color intensive
Time saver
THE RIGHT CHOICE FOR YOUR PMU LOOKS
Which cartridge configuration can you use for which purposes?
amiea cartridges can be split up into two main families based on their needle configurations: ROUND and FLAT.

For ROUND configurations, we arrange the needles within the cartridge in a circle; for FLAT configurations the needles are alligned in a row. All needles are made of supreme surgical steel.
You can download an overview of all the configurations here.
Download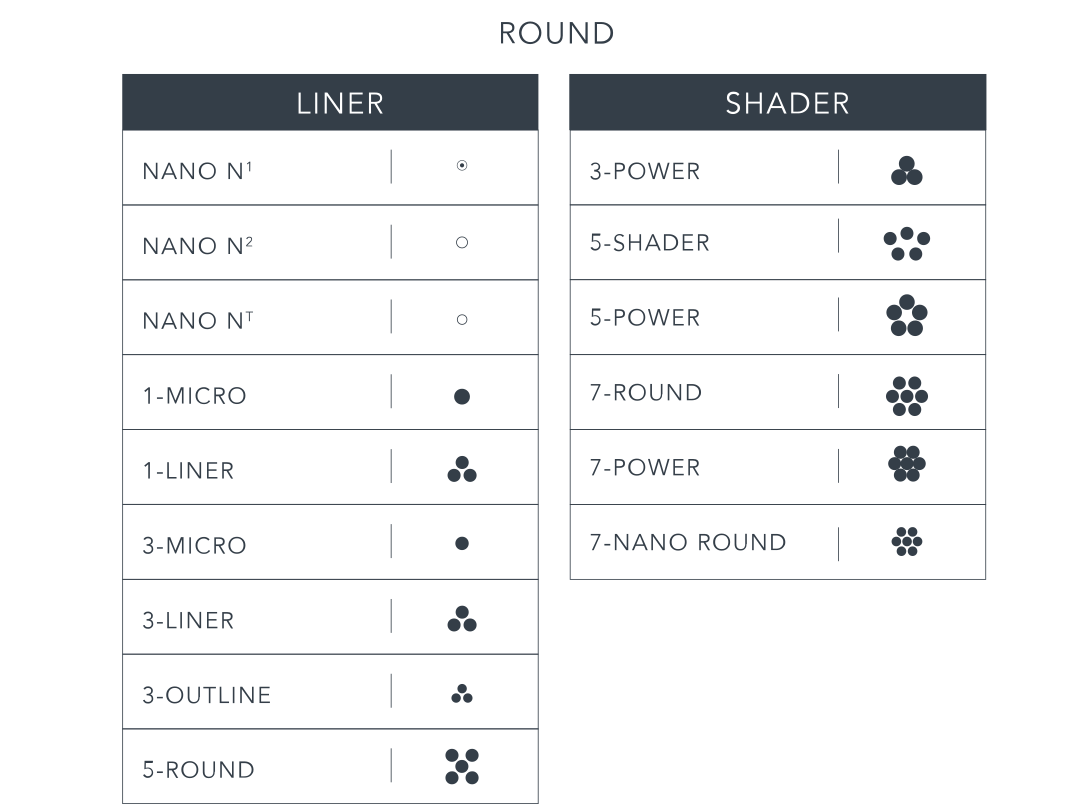 ROUND family
The ROUND family can be divided up into two groups:

Liner is used – as the name suggests – to create lines, while Shader is used for powdery shading. The difference is down to the manufacturing. For Liners, the needles lie closer together, so that you can draw high-resolution and sharp lines.

For Shaders, the distances between the individual needles are larger. As a result, the needles hold more color and produce a rougher, "pixelated" look.
FLAT family
The FLAT family can also be divided up into groups:

Classic Flat Tip
Magnum
Slope
Classic Flat Tip is generally used to create shading with various gradient effects. You can use it to create gloss effects on the lips, as well as light spots or three-dimensional effects on the eyebrows. In contrast to Magnum, it leaves behind a more transparent marking.

Magnum, on the other hand, is flat, overlapping needles. They always consist of an uneven number of needles, with the lower part containing more needles than the top part.
You can use Slope to create a more compact shading. This configuration consists of needles of various lengths, arranged in descending order. Thus, you can create spots of various intensity.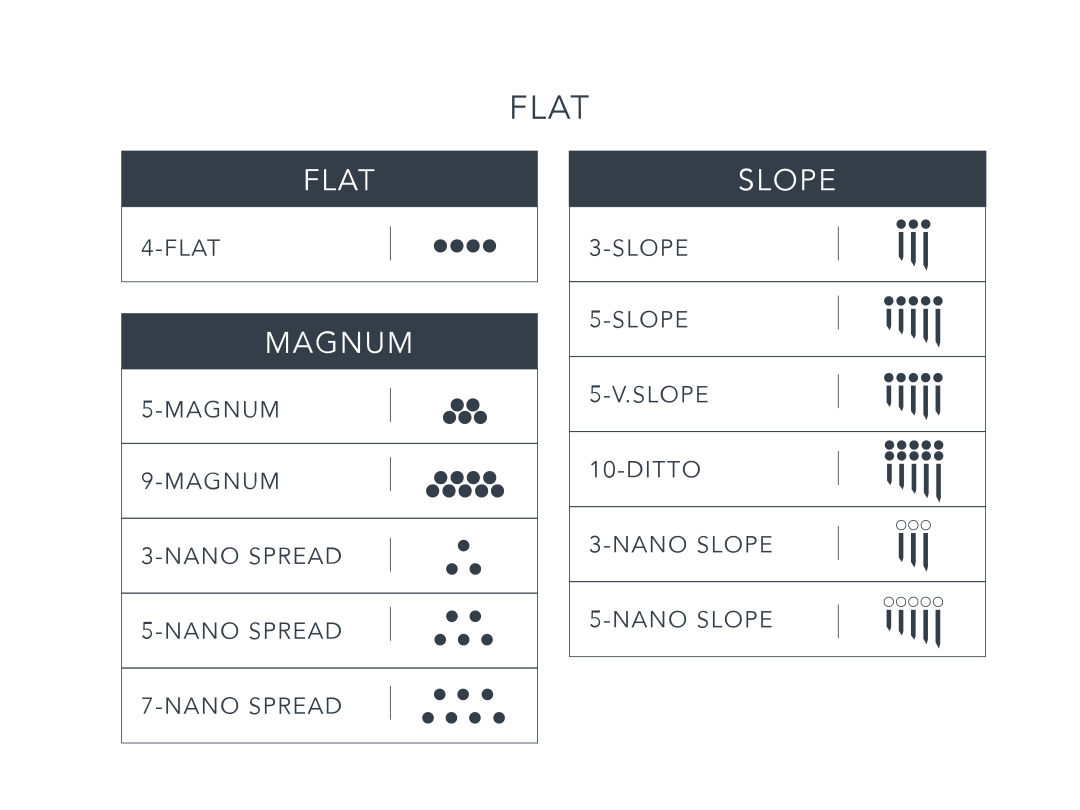 amiea Cartridges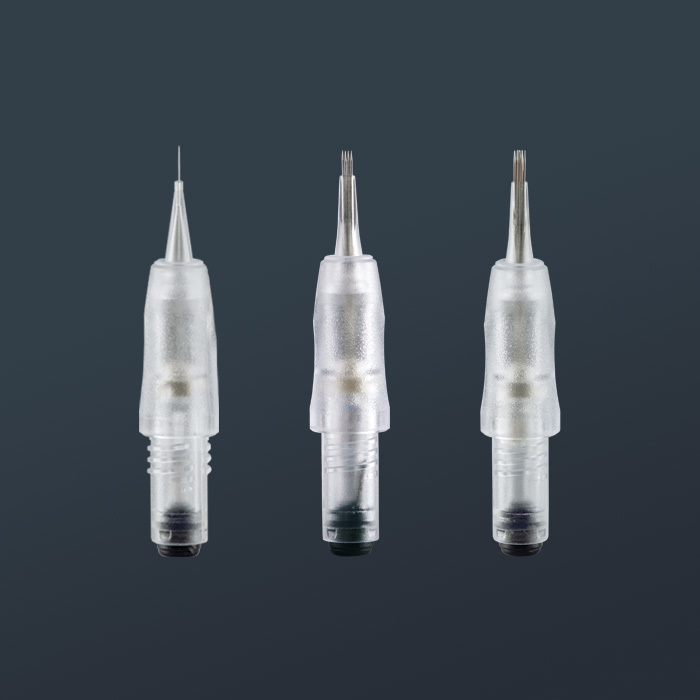 CARTRIDGES FOR FACILE AND SUPREME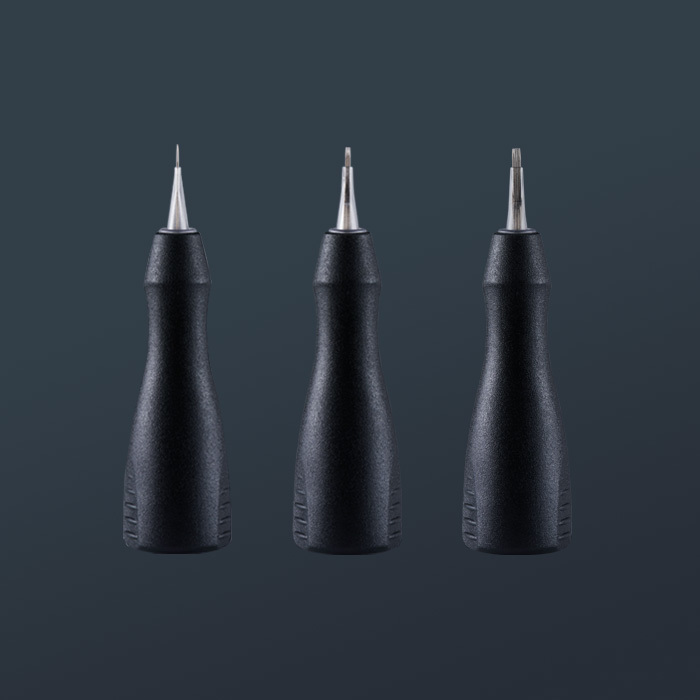 CARTRIDGES FOR SYMPHONY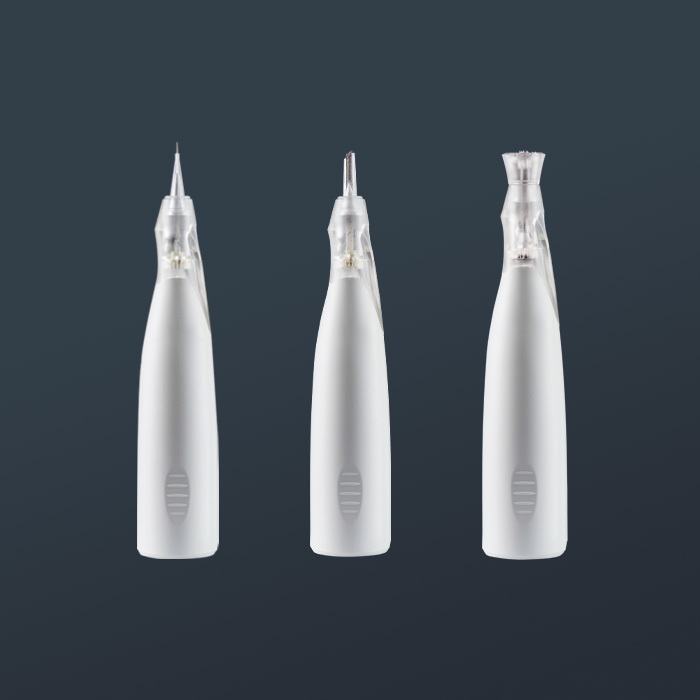 CARTIDGES FOR PRECISE AND SENSE
WHERE CAN YOU BUY AMIEA SYSTEMS, COLORS AND ACCESSORIES?
We are happy to help you find a local supplier.
Find your supplier!